Nonwoven Slitter Rewinder
EG-2001G Series
• Meltblown nonwovens
• Airlaid nonwovens
• Spunlace nonwovens
• Spunbond nonwovens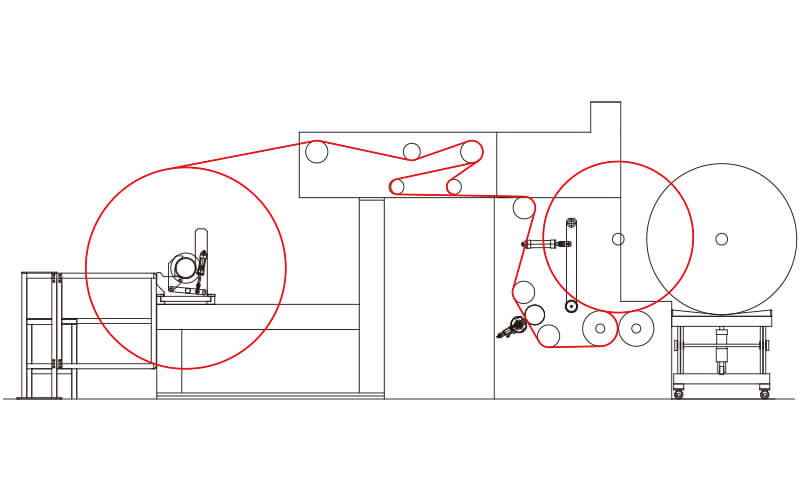 EG-2001G series
is specifically designed for nonwovens, offering several notable features. One of these features is the auxiliary belt-assisted unwinding, which enables precise control of material tension, effectively preventing overstretching and ensuring stability during transportation. The tension control system, integrated with a dancer roll, automatically adjusts to accommodate variations in material thickness. Moreover, the EG-2001G slitter rewinder can be complemented with various automation options, such as auto knife setting, shaft handling, and unloading, to significantly enhance productivity. Additionally, the system allows for seamless integration of finished roll handling and packaging systems, providing a comprehensive turnkey solution for end-of-line operations.
| | |
| --- | --- |
| Roller width | 2000 – 6000 mm |
| Unwind diameter | 1200 mm / 2500 / 3000 mm |
| Min. slit width | 50 mm and up |
| Rewind diameter | 800 mm / 1500 / 3000 mm* |
| Machine Speed | 400 / 600 / 800 M/min* |
* Speed and rewind diameter depend on material properties.
Standard Features
Shafted unwind stand.
Tension control incorporate with dancer roll.
Pneumatic cutters.
Trim waste air blower.
Top rider roller.
Finished roll pusher.
Auto. cross cutting device.
Manual unload cart.
PLC control system incorporate with HMI touch screen.
Optional Features
Enhanced unwind stand.
Splice device.
Motorized web threading.
Auto. Knife positioning.
Driven top rider roll.
Semi-auto. shaft handling system.
Motorized unloading cart.
Enhanced fencing & safety implements.
Finished roll bundling and weighing system.
Finished roll conveying and palletizing .
Increased efficiency and productivity
Precise and accurate cutting for consistent quality
Customizable options to meet specific needs
Advanced automation features to reduce waste and improve output