Primary Slitter Rewinder
EG-8003 Series
Materials:
• Films, BOPP, BOPET, BOPA, PE, PET, PS, PP, PVC,
CPP, CPE, OPP (Plain / Metalized / Shrinkable / Rigid)
• LDPE / Nonwoven / Laminations
• Acrylic adhesive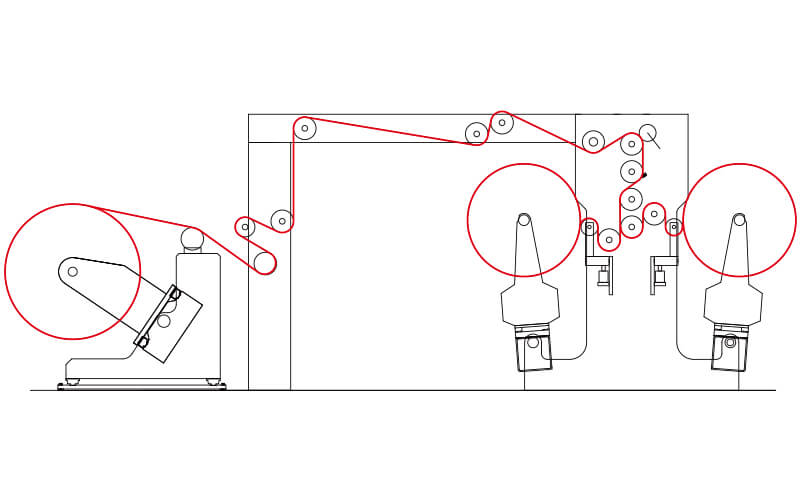 The EG-8003 series primary/secondary slitter rewinder is a highly versatile solution catering specifically to films used in flexible packaging and optical film applications. With its automated features and innovative control systems, this series offers exceptional performance. The motorized web threading, driven spreader rolls, and customizable advanced controller greatly enhance operational efficiency and flexibility. The inclusion of automatic knife positioning and rewind arm positioning further reduces downtime, ensuring smooth and swift operations.

In addition to our new primary slitter, Nicely Machinery is renowned for its expertise in retrofitting other-brand primary slitters. This retrofitting service provides customers with the opportunity to increase productivity and efficiency while making a reasonable investment.
| | |
| --- | --- |
| Roller width | 1500 - 7800 mm |
| Unwind diameter | 1000 / 1500 mm |
| Min. slit width | 300 mm and up |
| Max. rewind diameter | 1200 mm |
| Machine speed | 400 / 600 / 800 M/min |
* Other specifications are offered at request.
Standard Features
Shaftless unwind stand.
Shear or razer cutters.
Individual winder.
Trim waste winder.
Manual unloading cart.
Spreader roller.
PLC control system incorporate with HMI touch screen.
Optional Features
Splice device.
Inspection lightbox.
Motorized web threading.
Auto. Knife positioning.
Dust remover.
Auto. winder positioning.
Motorized unloading system.
Electrical actuator system.
Enhanced fencing & safety implements.